You can import data sources into NFS Portal in the following JSON format.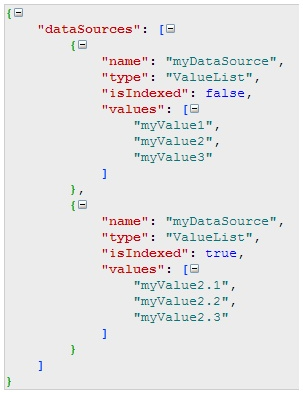 The example above shows an ordered list of data sources. Each data source in the list contains the following information:
Name: Provide the name of the data source.
Type: For the type, use ValueList.
IsIndexed: Indexed refers to whether the list will show up in naturalForms client in the order the values were provided, or in alphabetical order. To have the list display in the order provided, enter false. To have the list display alphabetically, enter true.
Value: Provide the list of values for the data source.
Select Data Sources to Upload
Select one or more data source files to upload and click the Upload files button. When the upload is complete, click Continue.