You may edit the email address associated with a specific user account by clicking the Edit Email button. You will be prompted to enter the new email address, and to confirm the email address by entering a second time. When you click Save, the user will receive an email at the new address to verify the account. The user must enter the updated email address to log into NFS Portal.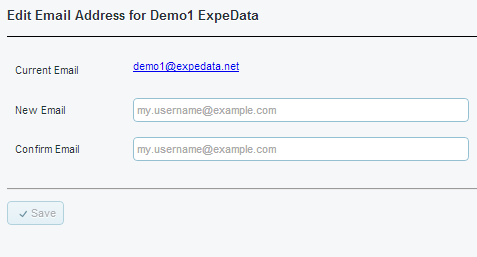 Click the Reset Password button to reset the user's password. Once you have confirmed the password reset, the user receives an email with a link to set a password. Users can reset their own password using the "Forgot your password? link on the login screen. Password must be eight characters or more, with at least one special character or number.
Check the Locked checkbox to lock the account and prevent the user from logging into naturalForms and/or NFS Portal until the account is unlocked. If the account is already locked, unselect the Locked checkbox to unlock the account.
A user can have one or more of the following permissions assigned.
Admin: Allows the user to manage users, devices, data sources, and templates for the customer account in NFS Portal. This permission also includes the ability to view the customer dashboard, including PDF versions of submitted documents.
Designer: These users can create and manage templates. The designer includes settings at template, page and field level. These settings determine what data is collected and how the users interact with the templates on their tablets. For more information on using the designer, please visit the Technical Support site using the link at the bottom of the page.
Viewer: Allows the user to view the customer dashboard in NFS Portal, including PDF versions of submitted documents. Viewers can also view the user accounts in User Management, but may not add or edit user accounts.
Submitter: The submitter permission allows full use of naturalForms, which includes the ability to submit documents to NFS. Submitters also can view user information in NFS Portal.

Click the Save button when you are done making changes.